Greenzyme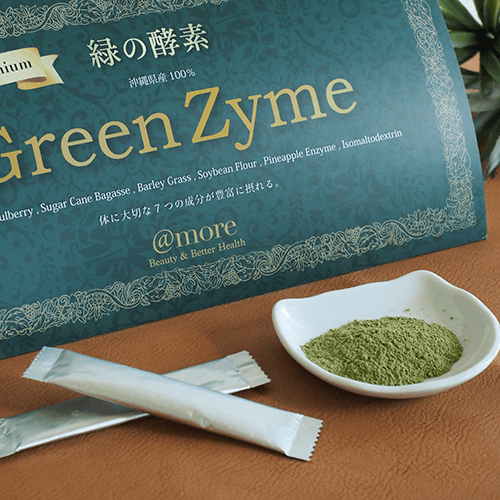 5g×30 package:¥10,580
to Product Purchase Page
Do Not Mind-Carbohydrate restriction
Suppression of carbohydrate and lipid absorption.
It is a diet support enzyme juice. You don't need to drink the bitter, green juice 'aojiru' any longer. With the aim as 'Delicious health to be continued on a daily basis', we have finished creating a drink of high quality and high concentration of purely Okinawa grown Miracle Tree 『Moringa』blended with island mulberry, isomaltodextrin (slimming bacteria), bromelain and other new ingredients. It is a 5g volume increased packet, so with only one packet, the amount of vitamins, minerals and dietary fiber of vegetables you want to take in one meal is sufficient. Taking before meals will bring a quick change in your physical condition.
Suppresses carbohydrate and lipid absorption. It is a diet support drink. Also can control cholesterol. By consuming before each meal will bring out quick changes in your physical condition.
| | |
| --- | --- |
| Interior Content | 150g(5g×30 Packets) |
| Country of Origin | Okinawa, Japan |
| Expiration Date | 2 years from date of manufacture |
| Storage Conditions | Please keep in cool, dark place and avoid high temperatures, humidity and direct sunlight. |
Basis of Safety and Security
️Synthetic Coloring
️
️Chemical Flavoring
️
️Trans Fatty Acid
️
️Genetically Modified Soybeans
️
️preservatives
️
Absolutely no synthetic preservatives are used.