Ryukyu Silhouette Cream 37.1℃ Pro*Plus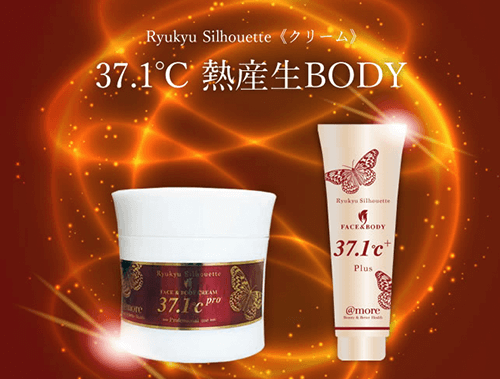 37.1℃ + 120g:¥19,440/37.1℃ pro 400g:¥30,240
to Product Purchase Page
「37.1℃ Slimming Body Warming Body」
37.1℃ Slimming Body by Ionization To a Fat Burning Era
Deep ocean water is rare sea water taken from the mysterious sea floor where sunlight cannot reach.
All around the world for 2000 years, the abundant minerals contained in the sea water have been said to be very necessary for the human body. Nowadays, it is said as body temperature continues to drop, the body temperature becomes colder and there are many people enduring chronic illnesses as a result. Sea water mineral iontophoresis effects induced by platinum and the penetration effects of body slimming component W raise metabolism, soften hardened fat and tension and brings out heating and fat burning effects. In an advanced diet theory, it is not only necessary to raise the temperature of fat to 37.1℃, but also muscles and internal tissues, as well, and raise metabolism by increasing immunity function.
The 37.1℃ Series warms tough, hard cellulite and stiff muscles and is a state-of-the-art cream for burning fat.
| | |
| --- | --- |
| Interior Content | 120g(Standing Tube Type) |
| Country of Origin | Japan |
| Expiration Date | 3 years from date of manufacture |
| Storage Conditions | Please keep in cool, dark place and avoid high temperatures, humidity and direct sunlight. |
Basis of Safety and Security
️Petroleum-based Oils
️
️Synthetic coloring
️
️Saturated Fatty Acids
️
️Synthetic Fragrance
️
️Sedimentation in Oils
Absolutely no synthetic preservatives are used.